Use your PC to guess chords to your favourite songs! With Chord Pickout, guitar and piano players can get chords to popular songs right away.
Giveaway of the day
This giveaway has ended. Just enter your e-mail and first & last name to get notified about any future promotions:
We NEVER spam you or sell your email address to anyone.
By submitting the form you agree to the Terms of Use.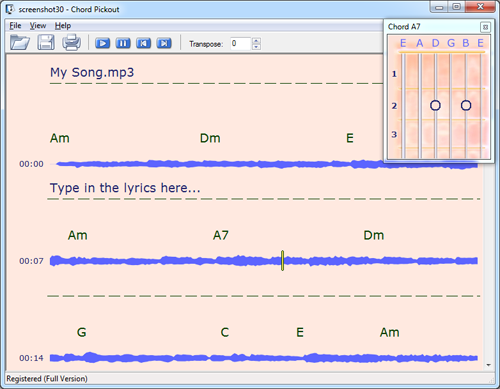 Easy to follow, second-by-second tabs! Download your copy and begin playing in less than 60 seconds!
What Our Users Say
"With a little music knowledge and this program, you can easily figure out any song. It's good enough for someone with enough music sense to knock out the chords in no time."
Saiya Mel Download.com
"Chord Pickout is my most valuable tool for when I'm performing."
P. Armstrong Download.com
"Personal congratulations to your company for a great program. I've seen a few guitar related programs come across my desktop, but I really like yours. I look very forward to any other "
Matt Foster Tucows
"If you are not blessed with perfect pitch, picking out the chords being used by listening to a band can be a long and arduous task. Chord Pickout is a very clever tool that will reduce your chord identification chore to a matter of minutes."
John O'Halloran Australian Computer Trader magazine
"I think your program is a marvelous breakthrough and will highly recommend it to all my studio and musician contacts."
Marc Moravia Download.com
"Before I came across this - I've been looking for something like this for quite some time. It's a very cool program that you should get it just to see it work."
J. Dreller Download.com
"I have now downloaded this software an am highly delighted with it! I have recommended this program to some of my musical friends, and you will probably receive further orders in the near future! It is a pleasure to deal with your Company, please keep up the good work!"
Mike Hedges
"I really love what you have done. It is a near impossible task to write this kind of software, I know. I am very impressed with what you have done."
R. Swanson
"I'm very happy that such program exist and I'm looking for long time for this. It's a very nice program for me."
N. Marinov
"This is a fantastic program."
M. Fournier
"What service sir! I'm very happy. If I get chance to talk about that intelligent product near my friends I will do it and give your internet site."
Terry G.
"Congratulations, I never thougth to find a software like that! I was pretty amazed 'bout your program. I think this is a extraordinary software for all us."
S. Kairi
"I just purchased and downloaded ChordPickout. I am very impressed. For the most part it does an amazing job identifying the chords."
J. Keith
"Thanks very much. Works like magic."
S. Carter